Director's Corner (Third Quarter 2010)

As seasons change and the transition to the next occurs, so does the work of the City. Reflecting over the work of the past quarter, it is apparent that HREEO employees are working at both closing out 2010 and preparing for the exciting challenges of 2011. The go-live date of COMET in 2011 is quickly approaching. COMET will streamline the purchasing program and provide multiple opportunities for growth and advancement. Our office has been engaged in all aspects of the designing of COMET, but most recently has participated in the integrating testing with positive results.
At the end of September, our long-standing Chair of the Human Rights and Equal Economic Opportunity Commission, A.L. Brown, stepped down after many years of dedication. Chair Brown had served on the HREEO Commission predating the creation of the Department of Human Rights and Equal Economic Opportunity. The departure of his institutional knowledge and advocacy will be missed. Although Chair Brown and the departing commissioners will be missed, we are excited to welcome the new leadership of JaPaul Harris as Chair.
As we near the end of 2010, we have started planning our work for 2011. Grants for the Saint Paul EMS Academy have been written and resources secured. Currently, we have funding for the 2011 Summer Academy, which will commence next June. Further efforts continue for financial backing of a second Academy to take place in Fall of 2011. The Contracts and Analysis Division has been preparing the bids for large-scale projects like the Lofts at the Farmer's Market that will bring jobs to Saint Paul as construction starts in the New Year.
Luz María Frías
Director
Mayor Coleman Appoints JaPaul Harris as New Chair of HREEO Commission
Earlier this fall, Chair A.L. Brown stepped down after a long and distinguished tenure with the Commission. In his place, JaPaul Harris was appointed the new Chair of the 21-member HREEO Commission by Mayor Coleman.
Mr. Harris began his service with the Saint Paul Human Rights Commission in February 2007. A resident of Saint Paul's North End neighborhood, Mr. Harris originally hails from Upstate New York where he attended Syracuse University as a Secondary Education and History Major, with a double minor in Sociology and American Studies. After graduation, Mr. Harris moved to Minnesota to attend Hamline University School of Law. While at Hamline, he was Symposium Editor of the Hamline Journal of Public Law and Policy and earned his Juris Doctorate in 2003.
After graduating from Hamline, Mr. Harris secured employment as a staff attorney at Southern Minnesota Regional Legal Services, Inc (SMRLS) working in its Housing Equality Law Project (H.E.L.P), where he represented low-income clients facing housing discrimination. In addition to his casework at SMRLS, Mr. Harris served on the Legal Service Advocacy Program Policy Advocacy Group working on setting the legislative policy agenda for the legal service community. Mr. Harris is currently working for Minneapolis Public Schools.
Mr. Harris has received many appointments and recognition for his work in policy. Most notably, in 2007, he received the Humphrey Institute Public Policy Fellowship through the Center of Politics and Governance. He is an active member of the legal community, including the Ramsey County Bar Association, Minnesota Association of Black Lawyers, and Minnesota State Bar Association. In 2008, Mr. Harris was appointed to a three-year term on the Minnesota Supreme Court Racial Fairness Committee, which examines impediments to the justice system faced by communities of color. In addition to his bar activity, Mr. Harris coaches youth football at Jimmy Lee recreation center in Saint Paul.
Mr. Harris' passion for Human Rights comes for his upbringing and his belief that every person should have the opportunity to live up to their full potential without the obstruction of discrimination in any form. Mr. Harris is excited about his new role as Chair of the Saint Paul Human Rights and Equal Opportunity Commission and is looking forward to continuing the positive work of the Commission.
Human Rights Division 2010 EEOC Report
As an additional benefit to the residents of Saint Paul, the Human Rights Division has a work-sharing agreement with the Equal Employment Opportunity Commission (EEOC). As part of this agreement, any employment cases in Saint Paul are cross-filed with the EEOC and the Human Rights Division.
The practice of cross-filing gives the Complainant the opportunity to pursue the claim in State or Federal Court if they so choose. Without this relationship, the Complainant would be limited to state court for cases filed with the Division or limited to federal court for cases filed solely with the EEOC. Complainants would choose to file in court for two reasons: issuance of a no probable cause case determination or an unsuccessful conciliation of a probable cause finding occurred.
The Human Rights Division closed 84 cases in the 2010 EEOC Reporting Period from October 1, 2009 to September 30, 2010. The total settlement amount from conciliations and Pre-Determination Settlement Agreements was $97,758 for this same time period. The Human Rights Division report (below), which includes information on EEOC and non-EEOC cases, follows the calendar year (January to December 2010). As a result, the final report for 2010 is not yet complete.
84 EEOC Cases Closed:

Total Settlement Amount

$97,758
($50,000 from Conciliations; $47,758.02 from PDSAs)

No Probable Cause (NPC)

63 Cases

Probable Cause (PC)

8 Cases
Successful Conciliation: 3
Unsuccessful Conciliation: 5

Pre-Determination Settlement Agreements (PDSA)

8 Cases

Withdrawn

2 Cases

Administrative Closure (Admin Cl.)

1 Case

Referred (Ref.)

1 Case

Lack of Jurisdiction (LOJ)

1 Case
Definitions:

No Probable Cause: The evidence did not show that it was more likely than not that the Complainant was discriminated and/or retaliated against because of a protected class.
Probable Cause: The evidence showed that it was more likely than not that the Respondent discriminated against the Complainant.
Pre-Determination Settlement Agreement: A negotiated settlement agreement between the parties at any point before a final determination is issued.
Withdrawn: Complainant withdraws the complaint before a final determination.
Administrative Closure: The Department closes the case without a determination. This is usually due to a lack of cooperation by the Complainant.
Referred: The EEOC requested the case back according to its investigation policies.
Lack of Jurisdiction: The Saint Paul Human Rights Ordinance did not grant our Department the authority to investigate the case.
While employment related cases represent the majority of cases, the Division also provides services in non-employment related cases such as: housing, public accommodation, education, public services, business, credit & other prohibited practices. Human Rights Specialists have worked tirelessly over the past twelve months. In fact, the Division posted a 20% increase in its caseload over last year. For more information about the Human Rights Division can be found on the Human Rights website.
SPOTLIGHT: Larkins Construction – A Section 3 Business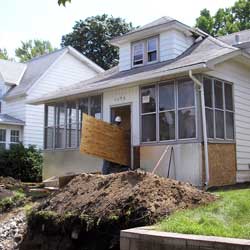 "You know, this might sound funny, but I didn't plan on getting into construction." But that's exactly where Demetrius Larkins career path has led him.
Larkins' foray into the construction industry began when he enrolled at Summit Academy OIC, a Twin Cities school offering several pre-apprenticeship construction programs. After graduating, he began working for one of the largest paving companies in Minnesota. Four years later, Larkins suffered a severe work-related injury that resulted in back surgery. He subsequently lost his job and filed for bankruptcy. Rather than being discouraged by these obstacles, Larkins used his recovery time to become a licensed contractor.
His company, Larkins Construction, is one of the most successful Section 3 businesses that have participated in Saint Paul's Neighborhood Stabilization Program (NSP). The City has used federal NSP funds to purchase hundreds of foreclosed homes in areas hardest hit by the recession with the intent of rehabbing and selling them to end buyers who meet certain income guidelines. The program aims to stabilize these neighborhoods by generating construction work for area businesses and creating affordable housing for lower income residents.
Saint Paul has awarded Larkins Construction seven single-family homes to rehabilitate. These projects have generated plenty of work for Larkins and his crews during a recession that has hit the construction industry especially hard. Larkins' success with the NSP program has also benefited his employees, most of whom are graduates of Summit Academy and the Construction Skills Training Program offered by Goodwill Easter Seals. Since becoming a general contractor, Larkins has been committed to employing minority and low-income graduates from these programs. He views this commitment as a way to give back to his community.
Larkins credits his success to his hardworking nature, his diligence in finding and taking advantage of good opportunities, and to divine intervention. Prior to becoming a general contractor, Larkins admits he led an unfocused life, working odd jobs as a bill collector, a mortgage consultant, and in closing loans. But he knew that none of those jobs allowed him to adequately provide for his 12 kids or to best utilize his strong leadership skills. Throughout this time, Larkins became frustrated with the difficulties he faced in providing for his family and in finding professional fulfillment-frustrations stemming from having little control over his life. At his lowest point, Larkins believed his life was touched by divine intervention: "I stopped trying to control everything and I began living day-by-day, doing the right thing today and letting God worry about tomorrow. Opportunities started to come."
Now it is Larkins, teamed with Saint Paul's NSP program, that is helping to provide opportunities to graduates of Summit OIC and Goodwill Easter Seals, as well as simultaneously reviving the communities of St. Paul. More information about the City's Section 3 program can be found on the Section 3 website.
Saint Paul & Ramsey County Collaborate for Hay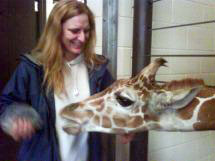 Once again, the depth of services within the Department of Human Rights and Equal Economic Opportunity Department (HREEO) has been put to the test. The Contracts and Analysis Division (CAS) of HREEO, which provides buying, contracting, and surplus disposal for Saint Paul, Ramsey County, Saint Paul Water Services, and the Saint Paul Port Authority was recently challenged with this question: "How can we sell this hay?"
Thanks to the creative minds of the Contract & Analysis (CAS) division, the solution to this question partnered Ramsey County Correctional Facility (RCCF) inmates with Como Zoo and the giraffes, zebras, and other hoofed animals it houses. By doing so, this solution fostered an effective collaboration between several departments in Saint Paul and Ramsey County.
As part of its workforce development efforts, the RCCF provides opportunities to their inmates in food preparation, building maintenance, and jobs in the Nursery—growing native trees and plants for use by public works programs across Minnesota. The Nursery also produces hay that it sells to various buyers, including the Saint Paul Police Department's Mounted Patrol Unit.
At the end of this growing season, the RCCF found itself with a surplus of the 2nd and 3rd cuts of hay and no buyers. It was at that time that Bonnie Lundgren, a Procurement Specialist with CAS, and Sue Feuerherm, the Acting CAS Manager, stepped in and devised the idea of connecting the RCCF and its surplus hay with the Como Zoo and its hay-eating hoofed animals. This triggered a series of meetings and tests focused on analyzing whether the hay's quality was appropriate for the Como Zoo's dietary needs. The Saint Paul Parks & Recreation Department ultimately deemed the hay adequate, which produced a subsequent agreement for RCCF to provide the Zoo with enough hay to feed its hoofed animals throughout the winter months, all at a reasonable price.
Saint Paul and Ramsey County's partnership resulted in a ripple-effect of creative solutions that helped minimize costs, thereby saving taxpayer dollars. For example, the City's Mounted Patrol Unit transported the RCCF's surplus hay to the Como Zoo, using one of the Zoo's trailers. In addition, a Sentence-to-Serve work crew provided by Ramsey County Community Corrections performed the labor involved in moving the hay into Como Zoo's barn. This partnership significantly reduced moving costs as both Saint Paul and Ramsey County used their resources effectively and strategically.
Given these widespread benefits, this inter-jurisdictional relationship and cooperation is expected to continue.
Saint Paul Receives Grant Funding For 2011 Summer EMS Academy
After a very competitive process, the City of Saint Paul has received $20,000 from the Spectrum Trust Multi-Cultural Endowment sponsored by The Saint Paul Foundation and a $50,000 grant from the Otto Bremer Foundation to assist in funding the 2011 Summer Emergency Medical Services (EMS) Academy which will be held in mid-June 2011.
Now in its second year, the nationally acclaimed EMS Academy is an Emergency Medical Technician (EMT) certification program designed for low-income youth between the ages of 18-21 that are residents of Ramsey County. The goal of the program is to build an EMT workforce that is reflective of the communities that First Responders serve in Saint Paul. Participants are hired and paid to attend a ten-week certification and job competency program. The Academy is a partnership between the City of Saint Paul's Parks and Recreation Youth Job Corps, Saint Paul Fire Department, the Department of Human Rights & Equal Economic Opportunity (HREEO), and Inver Hills Community College.
"This initiative strengthens our community's economic capacity, access to new careers, and participation in a workforce that has promotional opportunities across many fields. The Academy is the start of a new beginning that will have a generational impact for many of these families," said Luz María Frías, Director of HREEO. "We are grateful to the philanthropic community for making this happen."
The Department of HREEO is continuing to solicit additional funds which will be targeted for a 2011 Fall EMS Academy. For more information about the EMS Academy, please visit the EMS Academy website.
City's Website Now Multilingual
As part of the Limited English Proficiency (LEP) initiative led by our Best Practices Officer, Lucie Passus, visitors to the City of Saint Paul's website can now use Google™Translate.
A free, online translation tool, Google™Translate provides instant translations between over 50 different languages. It can translate words, sentences, and web pages between any combinations of supported languages.
With Google™Translate, Saint Paul hopes to make City information universally accessible and useful, regardless of the language in which it is written.
Visit www.stpaul.gov to try out this new and exciting website feature.
Lofts at Farmer's Market Networking Event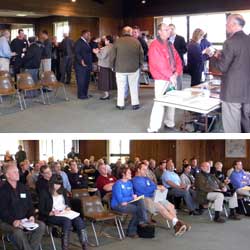 On November 10, 2010, the City of Saint Paul hosted a networking event for contractors interested in bidding on the Lofts at Farmer's Market project. To facilitate the networking process, over 30 contractors presented basic information on their companies to potential general contractor bidders and other attendees. In addition, the event doubled as a pre-bid conference whereby attendees learned about the project and available subcontracting opportunities.
Several City staff, including representatives from Planning and Economic Development, the Vendor Outreach Program, and Contract and Analysis Services organized and attended the event and were available to answer any project and compliance related questions. Over a hundred individuals representing numerous contractors attended the networking event, held at the Phalen Golf Course Clubhouse in Saint Paul.
The Lofts at Farmer's Market, a five story 58 market rate apartment rental complex with a total development cost of $7.5 million, is part of Mayor Coleman's Rebuild Saint Paul Initiative.
To learn more about the Rebuild Saint Paul Initiative, visit www.stpaul.gov/rebuildstpaul.
___________________________________
If you have any ideas or suggestions for HREEO's future newsletters, please feel free to contact Luis Morales at Luis.Morales@stpaul.gov, or at 651-266-8900.
Notice: If you are interested in receiving future editions of the newsletter, please subscribe by clicking here or visiting www.stpaul.gov and clicking on the e-Subscription icon. You'll find our newsletter under Newsletters > Human Rights & Equal Economic Opportunity.