Director's Corner (Fourth Quarter 2010)

Old Man Winter may have hampered activities for some Minnesotans but it had the opposite effect on our Department. We actively pursued funding opportunities in the philanthropic community for our EMS Academy. As a result, we secured funding from The Otto Bremer Foundation and the Spectrum Trust Fund of The Saint Paul Foundation to host the fourth EMS Academy which will be held from June 20th - August 26th, 2011. One change for this year, applications are only available online. Saint Paul Parks and Recreation is working with your neighborhood library and community centers to provide computer access and application instruction. Please visit Youth Job Corps to apply.
When the Human Rights and Equal Economic Department was created two years ago, many feared that our commitment to Human Rights would be overshadowed by the business responsibilities associated with the expanded mission. Nothing could be further from the truth. In just two short years, our Human Rights Division obtained a record amount of $175,783 in settlements for our complainants. This sum represents a 425% increase over the settlement amounts in 2008. In addition to the increased monetary awards, our Human Rights Division handled an increased amount of employment discrimination cases that are cross-filed with the Equal Employment Opportunity Commission (EEOC). We continue to engage in community outreach and empower our residents with knowledge about their rights.
In an effort to highlight the importance of our S/W/MBE Vendor Outreach goals and clarify the contractor's responsibility on city projects, our Department developed a new tool: the Vendor Outreach Questionnaire. This Questionnaire was added to all construction bids and must be completed and submitted with the bid/proposal. Bidder/proposers who fail to include this document with bid/proposal will be deemed non-responsive and its bid/proposal will be rejected. This document can be viewed here.
Lastly, we've made significant strides in our Section 3 Program this year. I had the opportunity to spend time with HUD Secretary Donovan during his visit to Saint Paul. More information on this visit will be included in next quarter's newsletter.
Luz María Frías
Director
Human Rights Division 2010 Activities Report
The Human Rights Division recently released its 2010 Activities Report to the HREEO Commission. This Division is primarily responsible for investigating and making determinations on charges of discrimination. This report analyzed the discrimination cases closed by the Division for outcome, basis, area of discrimination, and investigation time.
The Human Rights Division closed 96 cases in 2010. Of these 96 cases, a determination or settlement was reached for 91 cases; the other five were withdrawn, administratively closed, referred or lacked jurisdiction. Cases with a determination had either a probable cause or no probable cause finding. A Probable Cause (PC) finding is reached when there are enough facts to prove it was more likely than not that discrimination happened under the law. A No Probable Cause (NPC) finding is reached when there is not enough evidence to reach the probable cause standard.
To further support citywide sustainable building and development initiatives, CAS hired a new buyer, Lisa Bartels, in April of this year. Bartels is a LEED Accredited Professional with a specialty in building design and construction. The LEED AP buyer is available to work with other city and county departments on obtaining LEED certification for construction projects. The City now employs seven LEED Accredited Professionals.
Of the 91 cases with a determination or settlement, twenty-two percent resulted in a Probable Cause finding (eight cases) or a Pre-Determination Settlement Agreement (12 cases). Seventy-eight percent of the cases had a No Probable Cause finding (71 cases).
A total of $175,783.02 was paid as a result of settlement agreements made through the Division. Settlement agreements are reached either in conciliation following a Probable Cause finding on a discrimination charge or a settlement made before the determination as a part of the Pre-Determination Settlement Agreement process.
The majority (82%) of the cases were filed in the area of employment discrimination. Ten percent were filed in the area of public accommodations and seven percent the area of public housing. Race (28%) is the most frequent basis of discrimination followed by disability and reprisal (both 15%) and age and sex (both 13%).
The three full-time and one part-time staff are also involved in special projects including serving as ADA Coordinator for the City, staff liaisons to the HREEO Commission and Mayor's Advisory Committee for People with Disabilities, liaison to Human Resources, Department Accommodations Coordinator, and serving on the Black History Month Planning Committee.
Saint Paul & Ramsey County 2011 Black History Month Speaker Series – Part I: "Celebrate Firsts: African-American Leaders Who Paved the Way in Our Community"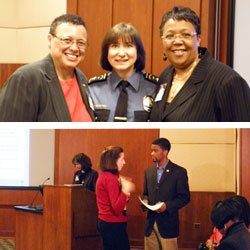 In commemoration of Black History Month, the City of Saint Paul and Ramsey County have been honoring and celebrating African-American leaders in our community. These leaders were among some of the first African-Americans to reach new heights of leadership and contributed significantly in shaping our community.
Our distinguished speakers discussed the path that led them to pursue their leadership roles, the challenges they faced, and how they transformed the institutions they joined. In a series of three events this February we brought together a number of distinguished community leaders to address the theme, "Celebrating Firsts: African-American Leaders Who Paved the Way in Our Community."
Eleven Saint Paul employees, including two HREEO Staff – Alyssa Wetzel-Moore, Chair, and Habtamu Awetu, Committee Member – and two Ramsey County employees were active in the planning and execution of these events.
February 11, 2011: Debbie Montgomery and Tracey Williams-Dillard
On February 11, 2011, we were honored to have Deborah "Debbie" Montgomery and Tracey Williams-Dillard present. Assistant Chief Kathy Wuorinen served as M.C. for the event.
Throughout her life, Ms. Montgomery has been active in the civil rights movement. At the age of 17, she was the first Minnesota Member of the NAACP. She showed solidarity with the civil rights struggles of the South by participating in the famous march from Selma to Montgomery with Dr. Martin Luther King, Jr. and was part of the 1963 March on Washington when he delivered his famous "I Have a Dream" speech.
Ms. Montgomery addressed the civil rights and women's rights struggles right here in Saint Paul. She became the first African-American, female beat officer for the City of Saint Paul. She was also one of few, if any, females to pass the police officer and firefighter physical performance test under the former testing system. As a female police officer, Ms. Montgomery traveled extensively internationally with the International Association of Women Police. She assumed other leadership roles on local boards. Ms. Montgomery had a successful run for Saint Paul City Council, and became the first African-American, female City Council member. She currently serves as president of the YWCA Saint Paul Board of Directors.
Tracey Williams-Dillard is CEO of the newspaper, the Minnesota Spokesman Recorder. The paper was founded in 1934 by her grandfather Cecil E. Newman. The paper has been dedicated to covering issues affecting the African-American community. Mr. Newman covered ongoing discrimination of African-Americans at a local department store. He encouraged his readers to boycott this store and the store eventually closed. Ms. Williams-Dillard stated that the paper continues to keep issues of equality in the public discussion. They shine a light on whether publicly-funded projects are creating equal employment opportunities for people of color and will challenge those institutions that are falling short. Ms. Williams-Dillard concluded by asking for the community's ongoing partnership to ensure that journalism represents a diverse perspective.
February 18, 2011: Commissioner Toni Carter and Representative Rena Moran
On Friday, February 18th, Councilmember Melvin Carter III served as MC for the event. Commissioner Toni Carter, the first African-American Ramsey County Commissioner, discussed the work of her board in addressing the race and class disparities in the treatment of juvenile offenders. The Commissioner noted that the trend in juvenile justice over the past several years has been to look to lockdown facilities as a panacea for all juvenile offenders, irrespective of the severity of the offense. Yet Ramsey County, thanks in large part to her influence on the system, is beginning to question this policy, especially in view of the racial disparity. As she pointed out, there are better, and cheaper, alternatives to dealing with youthful offenders.
Representative Rena Moran, the first African-American state legislator representing a Saint Paul district, discussed how her role as mother was important in shaping her role as a legislator. She chronicled her journey from mother to representative and the hardships she overcame along the way. One of the anecdotes she shared was the reaction of her children to the news that they would leaving Sharing & Caring hands for a new and permanent place to live. "Mom, do we have to leave?" was the sentiment expressed when she told them that she had found a place to rent. Assistance at key points in one's life, gave Representative Moran the leverage she needed to improve her life and the perseverance to run for elected office.
HREEO Staff Presented With Lars Lawson Award
On Tuesday, January 25, 2011, Lisa Bartels, Jacqueline Howard, Liz Maher, Bev Miller, and Lucie Passus received the Lars Larson Award for their extraordinary work on the City Operations Modernization & Enterprise Transformation (COMET) project. COMET is a financial data management tool meant to transform how the City does its work to achieve greater efficiency, quality, and accountability within and across departments.
Lisa, Jacque, Liz, Bev, and Lucie began working on the project months ago and have made outstanding process on standardizing and cleaning up in excess of 60,000 lines of data. The COMET team recognized not only their dedication to the project, but the tedious and time consuming nature of the work. These individuals have demonstrated extraordinary team work during these efforts.
The Lars Lawson Award is presented to City employees who provide exceptional effort in helping to realize the City's COMET efforts. Each winner receives the honor of hosting Lars, a bobblehead figure that has come to represent the COMET team and its efforts.
Thank you Lisa, Jacque, Liz, Bev, and Lucie for all your hard work on this project. Your efforts are appreciated by the entire City!
B2GNow Upgrade Info
We are in the process of finalizing details in preparation of implementing a new online certification management system for the Central CERT Program. We will be using the certification management module from B2Gnow, our contract compliance system provider. This system will automate the S/M/WBE certification process from application submission to approval. Companies will be able to apply online and upload their supporting documents directly to the system. By using the online application system, we will be able to greatly reduce the number of incomplete applications that are received, thus reducing staff time spent reviewing these incomplete application packages. The certification renewal process will also be automated, eliminating staff time spent generating and sending out renewal notices to companies whose certifications due for renewal. Most importantly, CERT Program members, and contractors bidding on their projects, will be able to access the online searchable business directory. This is a significant improvement over the large pdf files that have historically been published. The online directory is much more flexible and user friendly, and should make it easier for contractors to identify certified Small, Minority, and Women-Owned Businesses. We expect to go live with the CERT Program's new online certification management system before the end of the month.
New Data on Communities of Color Now Available on Website
Economic and population data on communities of color in Saint Paul can now be easily accessed in a single library location on HREEO's website.
Today, a third of Saint Paul's residents are people of color, a figure that has doubled in the past fifteen years. Similarly, Saint Paul's business community has changed dramatically as well and many of its older commercial strips are now home to emerging ethnic entrepreneurs serving new and existing markets.
Visit the HREEO website.
HREEO's New Contract Compliance Supervisor
Kelly Francis has joined HREEO as the department's new contract compliance supervisor. Prior to joining HREEO, Kelly worked for the Hennepin County Attorney's Office for over three years, monitoring and enforcing federal Davis-Bacon wages and local prevailing wages on County contracts. Kelly is now responsible for the supervision of HREEO's contract compliance division, which includes overseeing Section 3 requirements, Affirmative Action, Federal Davis-Bacon wages, Vendor Outreach and other compliance measures.
Kelly is pleased to be joining HREEO's team and working with the residents of St. Paul. She graduated from a local high school, Guadalupe Alternative Programs, and frequently attends the annual Cinco De Mayo celebration with her family. Kelly is also an active volunteer. She currently serves as the co-chair for Minnesota Women Lawyers' Public Policy Advocacy Committee, working on issues that affect women and girls, and as a Board Member for the Coalition for Impartial Justice, working to preserve fair judicial elections in Minnesota. In addition, Kelly has recently joined the JAG Corps of the Minnesota Army National Guard and looks forward to working with soldiers and veterans throughout the state. Please welcome Kelly to the Department!
Saint Paul & Ramsey County 2011 Black History Month Speaker Series: February 25, 2011 – The Finale Event
"Celebrate Firsts: African-American Leaders Who Paved the Way in Our Community"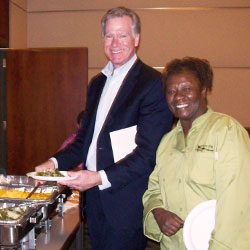 The finale event to the 2011 Black History Month speaker series was a tremendous success thanks to the entertainers, public officials, and keynote speaker, Bill Wilson.
Jackie Williams, Chef and Owner of Abundant Catering, provided soul food for the event and the Saint Paul Conservatory of Performing Artists provided entertainment and performed the Black National Anthem.
Deputy Mayor Paul Williams served as MC for the event. He stated that he did not realize he was also a "first" – the first African-American Deputy Mayor of Saint Paul. He pointed out that he and Mayor Coleman had not even discussed this.
City Council President Kathy Lantry read the City Council resolution "Recognizing Black History Month 2011 Celebrating Firsts: The African American Leaders Who Paved the Way in our Community." Commissioner Victoria Reinhardt, Chair of the Ramsey County Commissioners, read a Proclamation on behalf of the commission. Finally, Deputy Mayor Paul Williams read the Mayoral Proclamation on behalf of Mayor Christopher Coleman.
Key note speaker William "Bill" Lee Wilson chronicled his experiences which included serving as Commissioner of the Minnesota Department of Human Rights. This government experience positioned him well to consider running for Saint Paul City Council. At the time of the 1980 City Council race, candidates were elected on a City-wide basis rather than in wards. When he was running, Bill Wilson was told he should not emphasize he would be the first African-American City Council member. He ultimately won the race. After being re-elected several times, he was elected for City Council President in 1989, and served until 1993. In 1994, Governor Arnie Carlson issued a Proclamation establishing May 21, 1994 at "Bill Wilson Day" in Minnesota. Bill Wilson's bust can also be found next to Dr. Martin Luther King, Jr.'s in the third floor of the City Hall/Court House.
Bill Wilson served during the drug epidemic of the 80's. He met with youth who dealt drugs because they could not get jobs and saw rampant illiteracy among incarcerated African-Americans. He characterized the disparities in education between White and Black students as creating a "pipeline from school to prison." He visited other cities to find alternative models of policing to address the drug problem without destroying communities. As a result, he worked with Saint Paul Police to develop the "Focusing Our Resources on Community Empowerment Unit" (FORCE).
Realizing that Minnesota has one of the worse educational disparities in the nation, Bill Wilson founded Higher Ground Academy, an afro-centric K-12 charter school, to address these disparities. In operation since 1999, Higher Ground Academy has been recognized as one of the top high schools in the country by US News. Because all students must be accepted into college, they make the necessary commitment and academic preparations to be successful.
Bill Wilson discussed the importance of incorporating the emerging East African student population into the broader community. He quoted his friend who said, "If we get it right in the first 20 years, we will have it right for the next 200." Bill Wilson talked about the need to find a middle ground between the culture of newer communities and established institutions. He recognized a tenth grade Somali student who is driven to become a police officer. She wears a hijab (head covering) and skirt as is common in her culture. The police department requires that officers wear pants and a hat. Rather than requiring her to abandon her culture or her professional goals, a simple solution is that she can wear pants under her skirt and a hijab under her hat.
Mayor Coleman provided closing remarks for the event. He pointed out that education disparities are one of the human rights issues of our day. A minor increase in graduation rates for students of color is not enough when 50 percent of these students are not graduating. The Mayor discussed the need to ramp up efforts to eliminate these disparities and prioritizing education equality.
The 2011 Black History Month Committee is grateful to all of our participants and attendees. We hope you can join us next year.
___________________________________
If you have any ideas or suggestions for HREEO's future newsletters, please feel free to contact Kelly Francis at Kelly.Francis@stpaul.gov, or at 651-266-8913.
Notice: If you are interested in receiving future editions of the newsletter, please subscribe by clicking here or visiting www.stpaul.gov and clicking on the e-Subscription icon. You'll find our newsletter under Newsletters > Human Rights & Equal Economic Opportunity.